Now a days, homes and businesses are investing in a CCTV camera for security. A home security camera is an excellent way to keep your home more secure. Whether you want to see what is happening in your house when you are away.
Due to advances in technology, wire-free security cameras have emerged momentous and are a great security option. Ambicam home security camera is a Wire-free security cameras which are the most flexible and easy to install. Ambicam is an easy to use smart cloud camera and gives facility to watch live feed anytime 24×7. Ambicam cameras can dramatically increase the security of your property and keep your family protected.
AMBICAM is wireless cloud home security camera solution for video surveillance. Simple, easy to start and low-cost cameras which are widely available in multiple cities.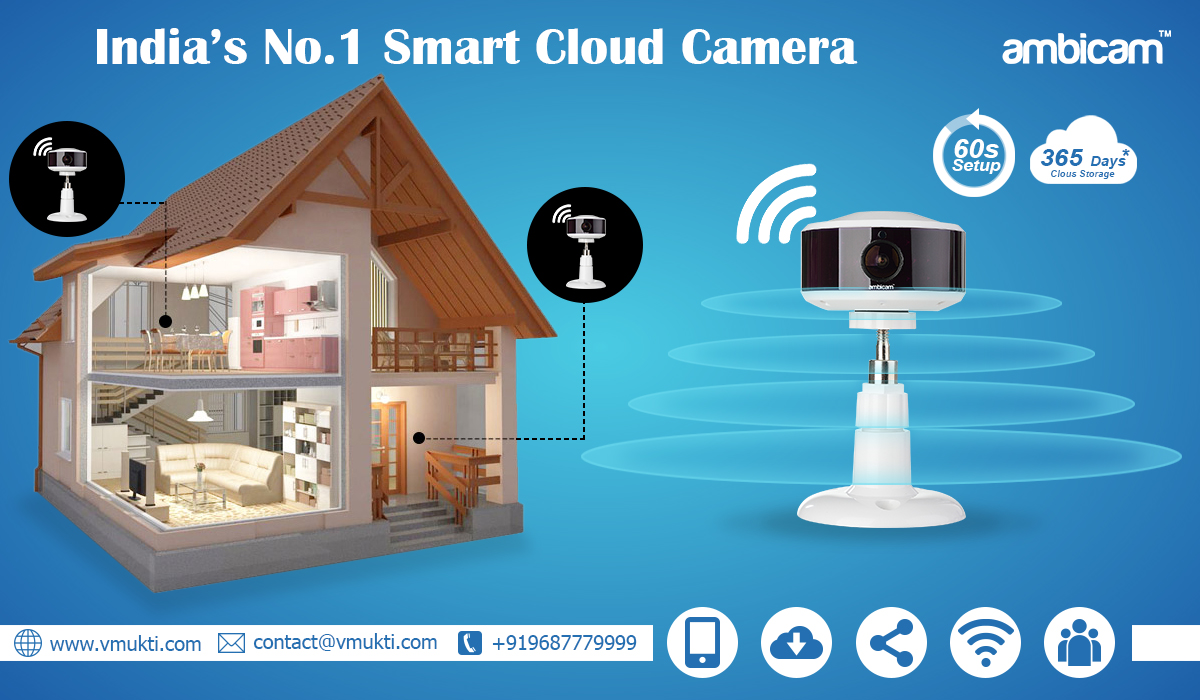 It is Simple:
Easy, quick, no-brainer setup. Installation will take only 60- seconds. Just download the AMBICAM app (available for both iOS and Android ) and use your unique QR-code from app to setup camera.
AMBICAM uses streaming video to cloud technology enabling you to watch live video as well as archived content when you connect this easy-to-use video camera to any Wi-Fi network.
Platform Independent:
Simplicity of interface helps you to find any function easily.
Apps gives you Smart Access to live stream or footage from anywhere via your laptop, smart- phone or tablet.
Camera can be used in any place with WI-FI, and relocated easily
Along with cloud recording, all data are stored in SD card also. So at the end of the day the data from SD card will be transferred to local storage system at Depot.
Night vision
Motion Detection
Two-way talk
Up to 30 days of cloud video recording
Share video on Social Media
Siren alarm method
Day brief summary
Access to live video from multiple computers, tablets or smartphones
Cloud Recording Services:
AMBICAM home security camera offers an optional cloud recording service that lets you store your footage on the cloud which means your videos are automatically saved, and always accessible online from any device and place.
You can choose the plan that best suits your needs, based on length of storage and other premium features.
Smart CCTV
Video compression technique is able to capture live stream into lower bandwidth.
Motion and sound detection system that notices any movement or noise and notifies you on your smartphone or by email. If you can't at that time, you'll be able see it later from the cloud archive.
Cloud recording up to 30 days with the possibility to download or share videos of high quality.
Night vision technology enables you to see in total darkness.
Two-way talk allows you to have a conversation with your family and greet your pets directly.