A video camera is a digital video camera-like device that transmits data over the Internet. But unlike a regular webcam, this appliance has a different IP address for transmitting images.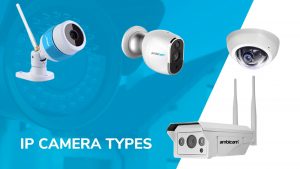 IP CAMERA TYPES
When choosing a video camera, pay attention to the type of application and the characteristics of the device. Also, it is important to consider that wireless video home security systems are classified into types:
1. Indoor and outdoor IP cameras. The internal ones are simple and attractive. The outer ones have increased protection against moisture and physical damage.
2. Dome, cylindrical, Speed Dome IP cameras. They differ in design, shape, and functionality of the case. It can be static or rotated by manual or automatic control.
3. Wired and wireless IP cameras. Despite wireless Wi-Fi popularity, many IP security cameras also offer wired LAN or coaxial cable connections. IP cameras with fixed, varifocal, or motorized lenses: Depending on the type of lens, focus change is determined – manual or automated.
4. Viewing angle, resolution, focal length, optical zoom. These characteristics of an IP camera directly affect the quality and detail of the final image.
5. Individual features of IP video cameras. It can be a thermal imager, a license plate identifier, IR illumination – all to cover narrow video surveillance needs.
Pros and cons of wireless video home security systems
Pros:
1. IP cameras can be integrated into the overall site security system, which also includes a fire safety management and access control system.
2. High-end IP systems support video analytics functions
3. Ultra-high resolution is available for IP cameras only
4. The technically advanced features. For example, recording at an increased rate (50 frames per second versus 25 for conventional standard cameras) allows you to capture intermediate frames of an event at high speed.
5.System flexibility. IP cameras allow the user to build a system based on a separate NVR and based on a computer on which a specialized program is installed.
6. Savings on installation work and consumables.
Minuses:
1.Periodic delays in video transmission
HOW TO CHOOSE IP CAMERA?
Choosing wireless video home security systems, you will be surprised how great their variety is. To simplify the selection task a little, we suggest you pay attention to the following specifications:
IP CAMERA RESOLUTION
Digital video surveillance cameras today rarely come with a resolution of less than 720P. The higher the resolution, the more detailed the picture will be, which is especially important if the camera is installed, for example, in a parking lot, in a supermarket, or a warehouse.
NIGHT LIGHT
If the IP camera for video surveillance will work at night in low light conditions, it must have IR illumination, which will increase the clarity of night recording. But remember that backlighting will also affect the price of the IP camera.
TIGHTNESS
If you need wireless video home security systems over the Internet for outdoor use, weather protection is necessary. Labeled as IP66 and above. Pay attention, the IK10 is a vandal-proof housing.
RECORDING AUDIO
Microphones are very rare on traditional CCTV cameras, but not uncommon on newer IP cameras. If you want to capture both video and audio, you need an IP camera with audio input.
It is important to understand that the choice of a CCTV camera-based only on price and claimed video resolution is superficial. Higher sensitivity, sound recording, recording to a memory card, and the higher rotation speed PTZ camera can only be realized through more advanced hardware.